Foreo Luna 3 Facial Cleansing & Firming Massager
Item#:
foreo_luna_3-Combination Skin
Foreo Luna 3 is the ultimate addition to your cleansing ritual.
Product Description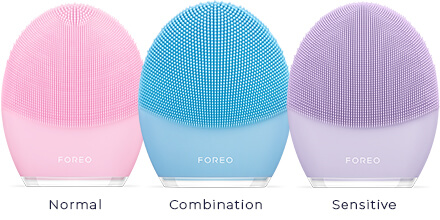 Product Description
Featuring upgraded T-Sonic™ pulsations at 16 different intensities, LUNA 3 blasts away dirt, oil and makeup residue in only one minute. With an improved design that offers longer and softer silicone touchpoints and app-connected firming massage routines - LUNA 3 is the best way to get the youthful glow you've always dreamed of.
Benefits
T-Sonic™ pulsations: Get a deeper cleanse as 8,000 T-Sonic™ pulsations per minute reach into your pores to wash away dirt, oil, sweat, make-up residue, dead skin cells and more.

Longer & Softer Silicone Touchpoints: LUNA 3's brush head is not only 30% larger than LUNA 2, but its silicone touchpoints are 30% longer and 25% softer. This greater reach and extra softness means you'll get a deeper, gentler cleanse.

No replacement brush head required: Never buy another brush head ever again - FOREO guarantees that your LUNA 3 will last for the lifetime of the product.

Customized Power: With 16 different T-Sonic™ intensities to choose from, LUNA 3 offers a customized cleansing experience to fit your unique skin.

650 Uses on a single charge.

Firming massage routines built into the App.

100% waterproof.

35x more hygenic than nylon bristle brushes.
How To Use
Connect your LUNA 3 to the FOREO app via Bluetooth (to unlock LUNA 3 before using it for the first time).
Dampen your face, apply your favorite cleanser to your LUNA 3 and hit the start button twice.
Glide LUNA 3's touchpoints in circular motions over your face until the built-in timer shuts it off.
Rinse LUNA 3, pat-dry your face and continue with your skincare routine.
How subscriptions work
Products are automatically delivered on your schedule. No obligation, modify or cancel your subscription anytime.
Learn more...