Alana Mitchell Full Spectrum Hemp Facial Rejuvenation Oil 2oz / 60ml
Item#:
alana_mitchell_full_spectrum_hemp_facial_rejuvenation_oil
Benefits



MCT oil eliminates signs of dryness, dullness, and fine lines




Free of artificial fragrances and parabens and is not tested on animals




Hand selected ingredients help diminish appearance of dark spots, discoloration, and unevenness



Product Description
This all-natural, moisturizing hemp facial oil reduces the appearance of pores and wrinkles while visibly improving premature aging signs, including fine lines, uneven texture, dark pigmentation, dryness, and dullness. The look of redness and sensitivity are visibly improved for a balanced, even-toned complexion.
BENEFITS
Improves skin brightness and radiance

100% natural ingredients

Soothing full spectrum hemp oil gently nourishes and moisturizes skin without feeling greasy
HOW TO USE
Shake well, and refresh dropper several times before each use.
Apply 1-4 drops, once or twice daily, to cleansed face, neck, and decollete, or add 1-4 drops per application to your favorite body or facial moisturizer.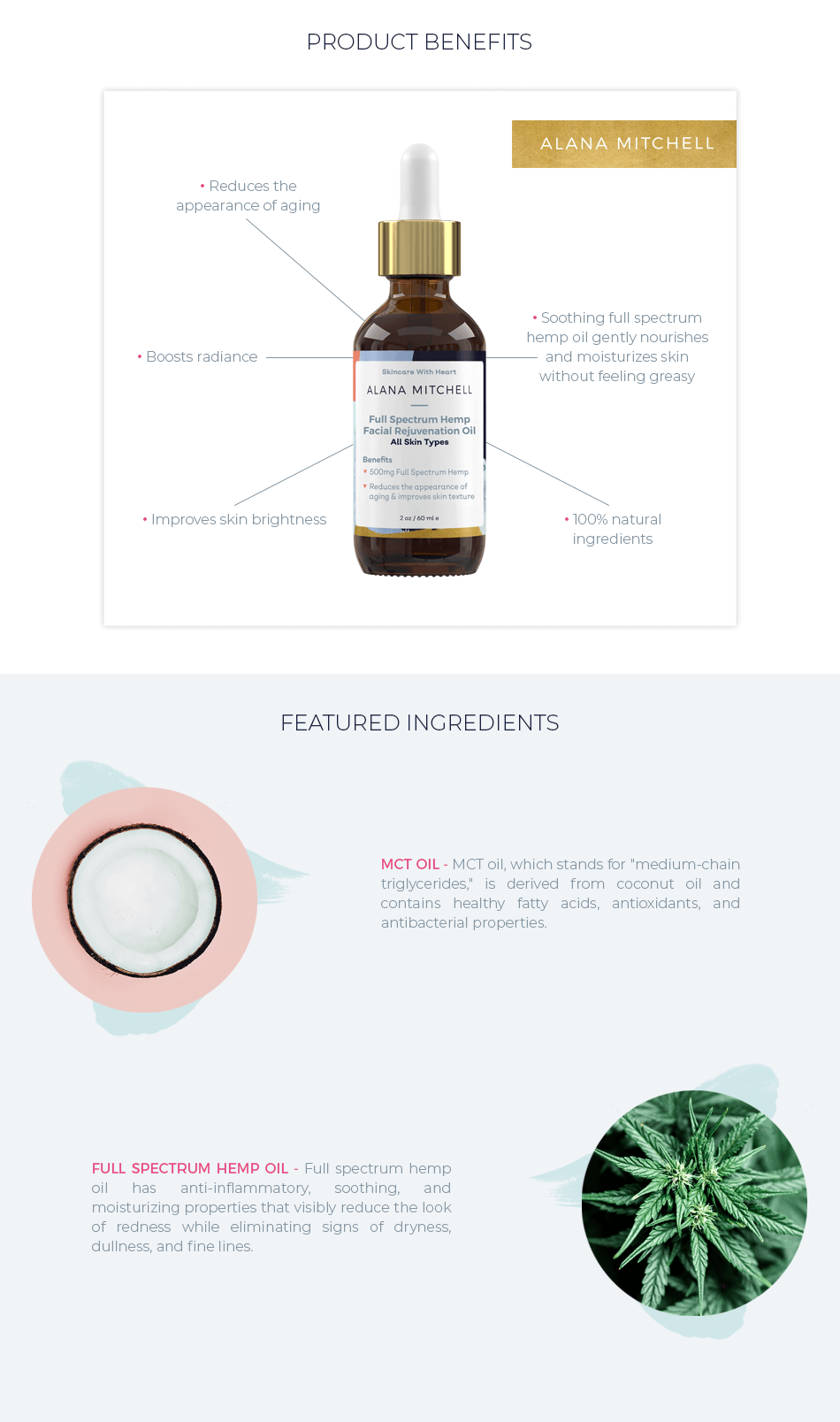 What is MCT oil?
MCT oil is derived from coconut oil. MCT oil looks very similar to coconut oil, but the consistency of it is thinner – more like a traditional oil. MCT oil is generally composed of the C8 and C10 medium-chain triglycerides.
What does MCT oil do?
MCT oil contains healthy fatty acids and is naturally rich in antioxidants an antibacterial properties. MCT oil also provides lightweight moisture and conditioning to the skin and has multiple beauty uses.
How much MCT in coconut oil?
About 60 percent of the fatty acids in coconut oil are MCTs.
Where does coconut oil come from?
Coconut oil is extracted from the meat of mature coconuts.
What are facial oils?
Facial oils are emollients that sit on skin's surface and act as a sealant to keep moisture in. Typically, they accompany hydrating ingredients.
What do hemp facial oils do?
Facial oils improve skin's softness and smoothness by providing superficial hydration. They are often packed with vitamins, fatty acids, and antioxidants. They also protect the skin barrier and cells, which helps with other skincare product absorption.
*As this item is already discounted, no free gifts or further discounts may be applied. Thank you for your understanding.
Customer Reviews
Write a Review
Ask a Question
Full Spectrum Hemp by Alana Mitchell
I Love this product! Just 2 - 3 drops then apply makeup. My skin feels like silk . Fine lines disappear. I will be reordering this product.
HEMP FACIAL REJUVENATION OIL
I HAVE JUST BEGUN USING THIS PRODUCT AS A 2 TIMES WEEKLY SUPPLEMENT TO MY IMAGE MOISTURIZINGNG PRODUCTS. IT ENHANCES THE APPEARANCE OF MY SKIN
hemp oil
I love love the product.
How subscriptions work
Products are automatically delivered on your schedule. No obligation, modify or cancel your subscription anytime.
Learn more...