Alana Mitchell Full Spectrum Hemp Cream Cleanser 8oz
Item#:
alana_mitchell_full_spectrum_hemp_cream_cleanser
Benefits



Soap-free and 99% natural




Gentle formula helps skin's pH balance




Anti-inflammatory properties reduce the appearance of redness and sensitivity



Product Description
Reveal more luminous skin with the Alana Mitchell Full Spectrum Hemp Cream Cleanser! This moisturizing facial cleanser contains hand picked ingredients to soothe skin and restore its natural pH balance. Anti-inflammatory properties calm the appearance of redness and sensitivity. If you're looking for a gentle, soap-free, and natural option, this is it! The Full Spectrum Hemp Cream Cleanser makes an excellent first cleanser or standalone cleanser to remove dirt, makeup, oil, and impurities for a refreshed complexion.
Click Here for an in-depth post about Full Spectrum Hemp Oil
BENEFITS
Gently removes dirt, makeup, and impurities

Nourishing and soothing

Improves the look of redness and sensitivity

Helps dry, dull-looking skin

Free or artificial fragrances and parabens and is not tested on animals
HOW TO USE
Use morning or evening to gently cleanse away dirt, oil, and makeup. Apply a nickel-sized amount to face and neck in a circular motion, then rinse.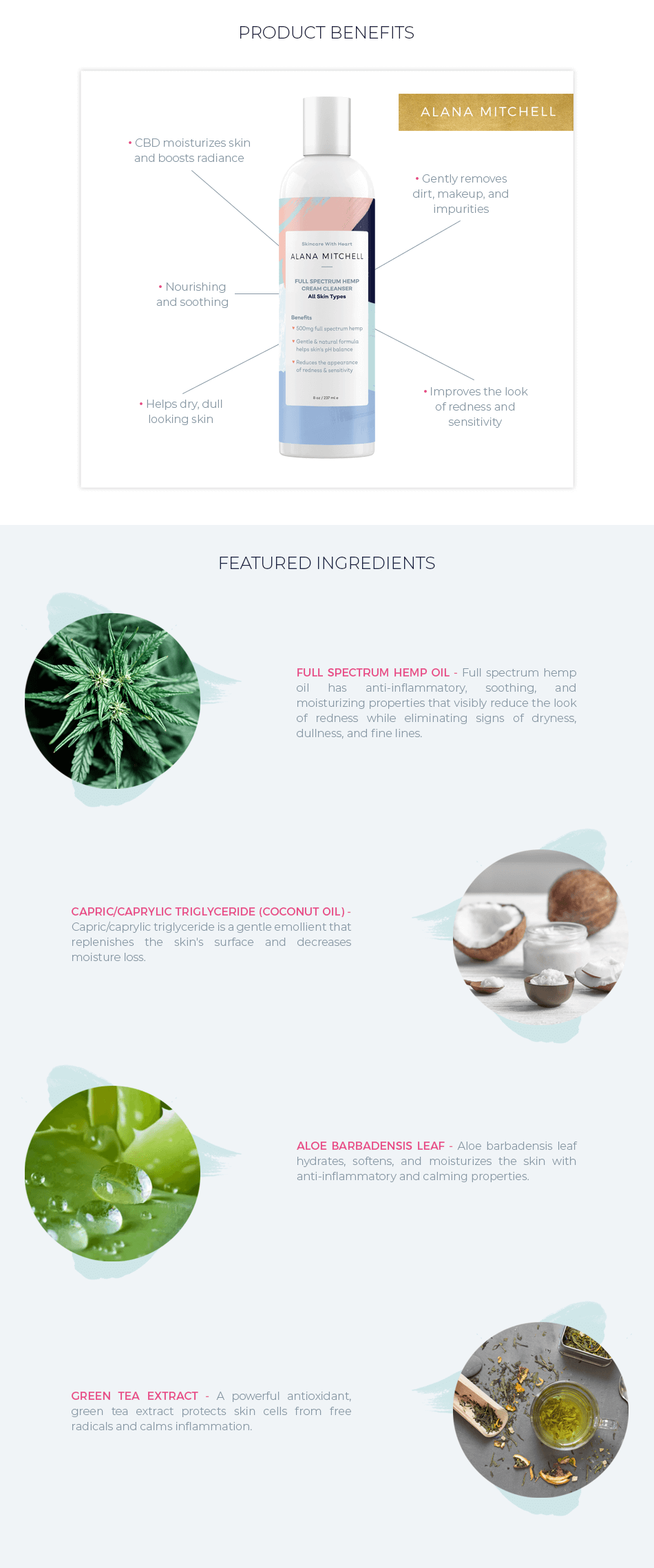 Full Spectrum Hemp Certification https://www.skincarebyalana.com/full-spectrum-hemp-certification/
INGREDIENTS LIST
Distilled Water, Safflower Oil, Capric/Caprylic Triglyceride (Coconut Oil), Vegetable Glycerin, 500mg Whole Hemp Extract, Hemp Oil, Aloe Barbadensis Leaf, Soapwort Extract, Green Tea Extract, Chamomile Extract, Lavender Extract, Marshmallow Root Extract, Licorice Root Extract, Lemon Balm Extracts, Oat Extract, Tangerine Essential Oil, Emulsifying Wax NF, Leuconostoc/ Radish Root Ferment Filtrate, Xanthan Gum, Panthenol (Vitamin B5) , Allantoin.
Contains:
500mg Whole Hemp Extract, Hemp Oil
FAQ
What is a facial cleanser?
Facial cleanser is designed to remove makeup, dirt, dead skin cells, and pollutants from the skin that can result in clogged pores and acne. Face cleanser is typically one of the first steps in a skincare routine for cleansing and prepping the skin. This is the best facial cleanser to start your routine!
What are the benefits of cream cleanser?
Cream cleansers are designed to add a moisturizing element to the skin, which is ideal for dry or mature skin types. They tend to be the least stripping and most nourishing.
How to use cream cleanser?
Apply a nickel-size amount of the full spectrum hemp cream cleanser to the face and use circular motions to work into the skin, then rinse. This is the best cream cleanser for achieving a refreshed, bright complexion without drying skin.
What is full spectrum hemp oil?
Full spectrum hemp oil means the pure oil extracted from the hemp plant contains all of the same cannabinoids, compounds, minerals, fiber, flavonoids, and terpenes that were originally in the plant.
Customer Reviews
Write a Review
Ask a Question
02/05/2021
Casey M.

United States
Love Alana Mitchell Products!
I have used a million facial products. Most have not met my expectations. This line of products has changed my mind. I use the whole hemp line of products and my face feels and looks soooooo much better. I have roseca and these products have helped tremendously. Thank you, Alana Mitchell! I truly believe in you products and will continue to use them.
Hemp cleanser
Definetely leaves skin feeling smooth and clean!
Alana Recommends
How subscriptions work
Products are automatically delivered on your schedule. No obligation, modify or cancel your subscription anytime.
Learn more...