Alana Mitchell 4-in-1 Cleansing Sponge Pack
Item#:
alana_mitchell_4in1_cleansing_pod-2 Pack
Benefits



Quickest and finest way to cleanse your skin every day for a beautifully flawless complexion. It's a sponge that contains cleanser!




Ideal for all skin types, but especially beneficial for Oily and Combination skin types.




Cleanses, exfoliates and brightens!



Product Description
The Alana Mitchell 4-in-1 Cleansing Sponge eliminates the needs for different products, saving you time and money in your skincare routine. It is ideal for all skin types, but especially beneficial for oily and combination skin. The textured sponge gently sloughs away dirt, leftover makeup, and dead skin cells to reveal a clean, glowing complexion. Leave the foaming cleanser on the skin for 10 minutes to receive a deluxe purifying and brightening mask treatment. Featuring vitamin E, the 4-in-1 Cleansing Sponge brightens your complexion for silky-smooth, radiant skin.
BENEFITS
4 products in 1: sponge, facial cleanser, facial mask, and exfoliator

New and innovative skincare product unlike any other on the market

Quickest and most effective way to cleanse your skin

Kaolin (clay) and aloe vera blend moisturizes while purifying

Perfect for a busy, on the go lifestyle or for traveling

Free of artificial fragrances and parabens and is not tested on animals
HOW TO USE
Step 1: Dampen the sponge and squeeze to activate the foaming cleanser. The sponge will expand.
Step 2: Gently rub the sponge in circular motions on the face, neck, and decolette, then rinse.
Step 3: To intensify purifying and brightening benefits, leave the foam on as a mask for up to 10 minutes, then rinse.
Use the 4-in-1 Cleansing Sponge once a day or every other day.
Usage Amount: Each sponge delivers 2-5 applications.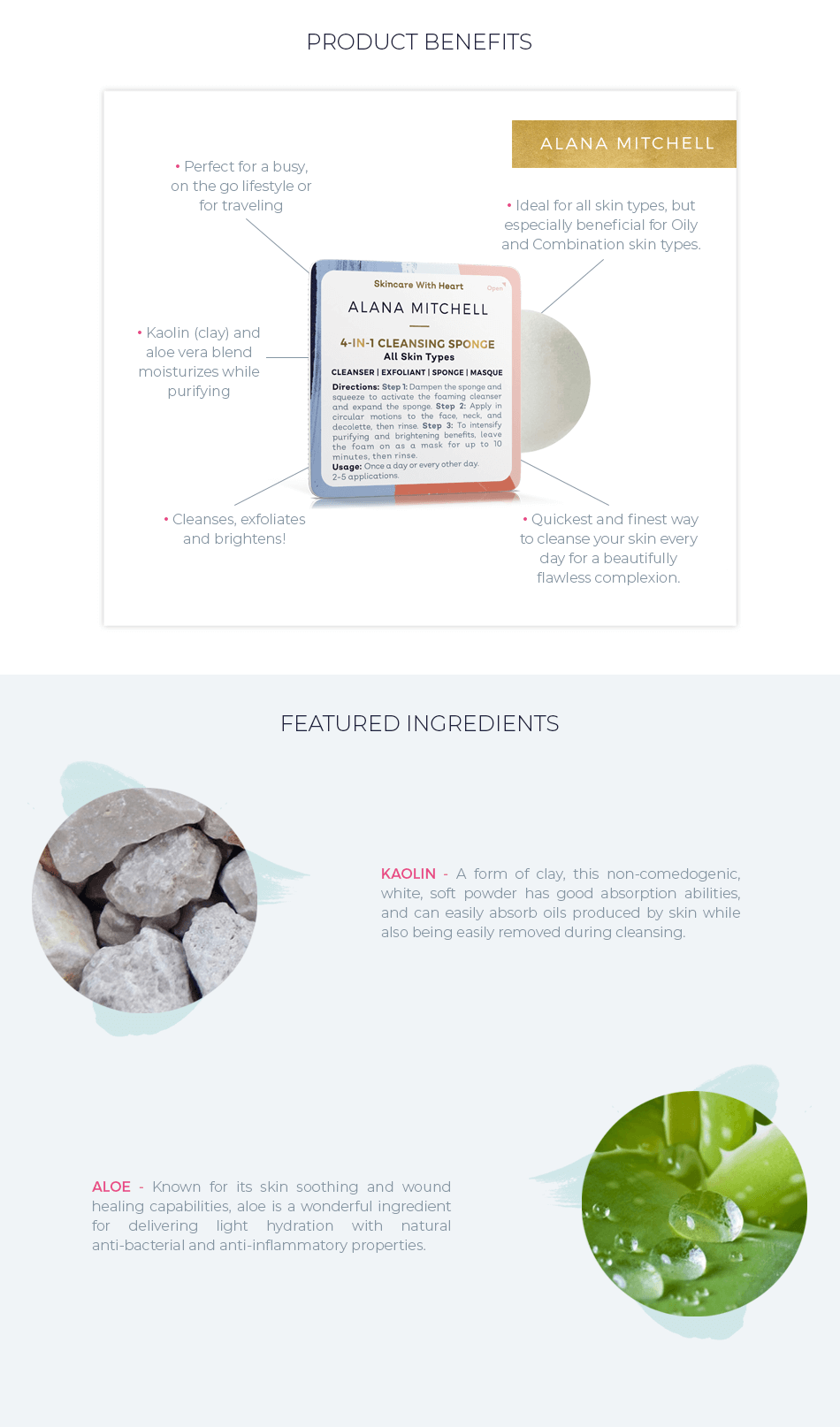 INGREDIENTS LIST
Water, Glycerine, Myristic Acid, Stearic Acid, Kaolin, Lauric Acid, Cocamidopropyl Betaine, Hydroxyethyl Urea, Beeswax, Polyquaternium-51, Potassium Hydroxide, Tea-Cocoyl Glutamate, Aloe Barbadensis Leaf Juice, Hydroxypropyl Starch Phosphate, Phenoxyethanol, Ethylhexylglycerin, Disodium EDTA, Phytosteryl/Octyldodecyl Lauroyl Glutamate, Tocopheryl Acetate, Perfume, Sodium Hyaluronate
Alana Recommends
How subscriptions work
Products are automatically delivered on your schedule. No obligation, modify or cancel your subscription anytime.
Learn more...