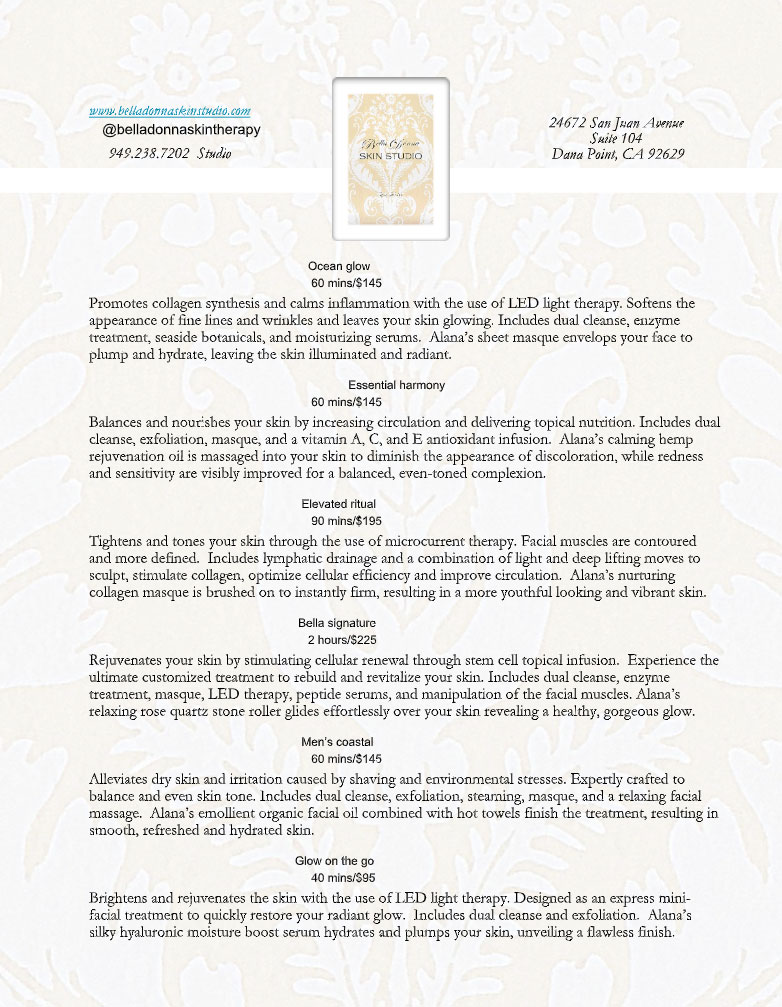 Spa Alana Menu
Located in the heart of Dana Point by the beautiful Pacific Ocean, Spa Alana offers a wide variety of spa services customized to meet your unique needs.  Whether you're looking for a brow wax to frame your beautiful eyes, a bikini wax before a big vacation, a relaxing facial to rejuvenate your skin, or a more advanced treatment like microdermabrasion or chemical peel, Spa Alana will customize a skin care treatment to meet your unique cosmetic and dermatologic needs.  Take a look at the Spa Alana menu above, and make your choices.
Spa Alana Menu Options
Waxing – Spa Alana provides a number of waxing services to help you get runway ready.  In addition to waxing the brows, upper lip, or the entire face, Spa Alana estheticians are ready to wax all over your body to help you get silky smooth skin.  Spa Alana even offers waxing services to men looking to get rid of unwanted back and chest hair.
Facials – Offering a variety of facials to relax, clarify, groom, or rejuvenate your skin, Spa Alana provides a full range of facial services that will have you looking and feeling fabulous.  If you're looking for a quick pick me up, try the Quick Fix Express Facial.  If you need a more in-depth treatment, go with the Spa Alana Signature European Facial.  Each treatment is customized to balance and improve the unique needs of your skin.
Microdermabrasion – Spa Alana provides this ultra-concentrated exfoliating treatment to purify your skin from the surface to deep within the pores.  Each treatment promotes clarity, smoothes the skin, reduces the appearance of scars, improves discoloration, and promotes a more youthful complexion.
Chemical Peels – Revive your skin with a chemical peel.  Designed to remove dead skin cells and reveal a fresh, renewed complexion, each chemical peel addresses everything from acne to wrinkles.
Each Spa Alana treatment uses only the best quality ingredients to yield unmatched results.  In addition, each treatment can be added to or customized based on your desires.  Give us a call, and set an appointment.  We can't wait to serve you.