NuCelle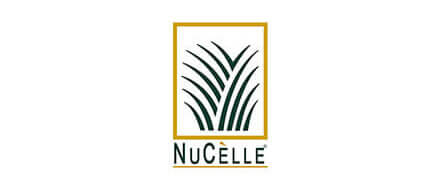 About NuCèlle:
NuCèlle was founded by a physician who was passionate about helping people with troublesome skin conditions achieve the smooth, glowing complexion that they always desired. Frustrated by the abundance of expensive, ineffective skincare products on the market, NuCèlle's founder, Dr. Mark Taylor, conducted extensive research and ultimately discovered that combining Mandelic Acid (derived from bitter almonds) with NuCèlle's proprietary Marine Complex resulted in a skincare formulation that could be used on all skin types, including sensitive, problematic, and aging skin. This discovery led to the development of NuCèlle's premium Mandelic Marine Complex Skin Conditioning Formulations and Systems. Even people with healthy skin can benefit from using these products to maintain a youthful, healthy appearance. NuCèlle has a strong relationship with the medical community and its Skin Conditioning formulations are used by medical professionals such as dermatologists, plastic surgeons, and general practitioners. Each NuCèlle formulation is tried, tested, and approved in a medically controlled setting, ensuring their effectiveness. We are confident that you will love the results you see with NuCèlle.

NuCèlle is a skincare system designed to help you maintain a youthful appearance despite the passage of time. Its main product, NuCèlle Mandelic Marine Complex, is suitable for all skin types and works to remove the effects of weather, time, and the environment on your skin. By gently peeling away these external factors, NuCèlle helps to reveal your smooth, clean, radiant skin. This unique skincare system is formulated to be gentle on the skin while still providing powerful anti-aging benefits. Whether you have dry, oily, or combination skin, NuCèlle can help you achieve a youthful and radiant appearance.

What makes NuCèlle Products So Effective?

NuCèlle's Mandelic Acid is the key to revealing naturally beautiful skin. This alpha-hydroxy acid (AHA) has been used by physicians for years to treat various skin concerns such as photoaging, uneven pigmentation, acne, and also exhibits anti-bacterial properties. NuCèlle Mandelic Marine Complex® utilizes nanotechnology to harness the cleansing powers of Mandelic Acid, gently cleansing damaged skin while rejuvenating and restoring a healthy skin tone and complexion with essential vitamins and antioxidants. This skincare system is suitable for all skin types and works to remove the effects of weather, time, and the environment on the skin, revealing smooth, clean, radiant skin. The NuCèlle formulation combines Mandelic Acid with a proprietary Marine Complex® to provide "irritation-free" skin conditioning, making it an excellent option for those with sensitive skin who cannot tolerate traditional glycolic acid products.
NuCèlle's skincare products are suitable for all skin types and can help address a variety of skin concerns. People with oily skin, which can lead to adult acne, can greatly benefit from using these products, as can those with dry skin issues. In addition, NuCèlle products can help resolve problems with plugged or enlarged pores, uneven skin tone, and dull complexions. No matter what your skin type or concerns may be, NuCèlle has a product that can help you achieve healthy, radiant skin.
How NuCèlle Makes A Difference:
As a small, women-led company that is passionate about animal rescue and preventing animal cruelty, NuCèlle believes it's important to support their cause through their business. That's why they created NuCèlle, the line of skincare products that uses their proprietary Cruelty Free Mandelic Marine Complex formulations to gently reveal radiant, glowing skin. Not only will you love the results you see on your skin, but your purchase will also help fund the rescue and care of neglected and abused animals. NuCèlle makes it possible that caring for your skin and supporting animal welfare can go hand in hand, and they are proud to support a variety of animal rescue and welfare organizations, including the Vancouver Humane Society. So, not only can you feel good about the positive impact you're making on your own skin, but you can also feel good about the positive impact you're making on the lives of animals. NuCèlle products are never tested on animals and are certified Cruelty-Free by the Leaping Bunny Program.
Guaranteed Safe Checkout