Living Proof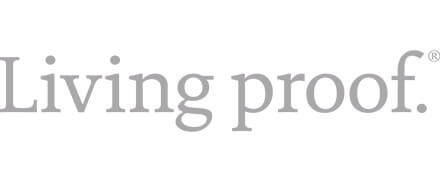 About Living proof
Science, safety, and effectiveness are the top concerns of Living Proof. Since 2005, this brand has carefully curated and reinvited traditional treatments, conditioners, shampoos, and styling products. By working closely with experts and scientists, they have formulated haircare products that actually care for the scalp, any hair type, and curl pattern. In fact, every product begins in its own lab.
Living Proof offers a menu of revolutionary, restorative shampoos, hydrating and lightweight conditioners, and intensely reparative treatments. This brand's line of products all work together to provide science-based results that resolve hair concerns right at the root. Leaving you with beautiful, soft to the touch, naturally radiant hair.
If you need hair care products to restore shine, luscious bounce, and volume, help prevent further breakage and split ends and provide clean nourishment to your scalp and hair, Living Proof has all that you need!
Get Sustainable with Terracycle
This brand's mission statement follows solving tough beauty challenges while staying truly cruelty-free without harming the planet.
All of Living Proof's product bottles are completely recyclable, even containers like aerosols. What's more, this company has partnered with TerraCycle to make certain that you always have the option to safely recycle your finished containers in the US and Canada, for free!
By 2025, Living Proof plans to decrease its use of virgin plastic and increase its use of post-consumer recycled material in all of its global packaging by at least 50%. Additionally, Living Proof is pioneering its way to have all its packaging to be 100% recyclable.
Customer Reviews
"[Dry Shampoo, Perfect Hair Day] If you've never tried this, you have too! It's the best out there and I swear by it. I've used a bunch of other brands but this has been the best. Plus it smells so good! It does leave a white powder finish if you don't rub it in so make sure to brush it through your hair and it will look like you just came from the salon!" - Kendra D.
Frequently Asked Questions
Where can I purchase products?
You can purchase Living Proof products here at Skincarebyalana.com. We only sell 100% authentic Living Proof products. We are a proud and authorized retailer of Living Proof products and you will only get the best products offered by us!
What is Living Proof's promise?
Living Proof's promise when providing their products to consumers is to be:
Silicone-free
‌Paraben-free
‌Color safe
‌Safe for chemically treated hair
‌Phthalate-free
‌PETA certified cruelty-free
‌Sulfate-free*-*No SLS & SLES
What are the best-selling Living Proof products?
While Living Proof offers a menu of amazing products these are the top three best selling:
Perfect Hair Day, Dry Shampoo
Full, Dry Volume Blast
Frizz, Nourishing Styling Cream
After using the Dry Shampoo I see white residue, what should I do?
White residue is normal, especially with darker hair. Using fingers, massage or rub your hair to remove powders. A boar bristle brush can also be used and it's is most effective in removing the dry shampoo, however, if you are still seeing the powders, use a blow dryer.
Does Living Proof's Dry Shampoo work on all hair types?
Yes! This brand's dry shampoo works with any hair type.
Thicker, coarser hair texture - take time to apply to sectioned hair.
Curly hair - apply, then use a blow dryer to remove the dry shampoo.
Is this brand cruelty-free?
Yes, all Living Proof's products are formulated without animal products and none are tested on animals.
Who makes Living Proof products?
Living Proof products are manufactured by the Unilever company.
Guaranteed Safe Checkout