Embryolisse. Laboratoires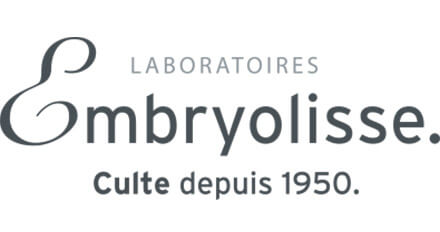 About Embryolisse
The Embryolisse brand first sprang to life in 1950 by seeking an answer on how to manage and resolve various skin troubles. The mission then was to use simple ingredients that would yield the best results for patients with a range of skin types and conditions.
Then in 1997 duo, Alain and Nazoura Cassam-Chenaï took over the reins of the Embryolisse brand. The mission was to remain the same "[...]constantly create innovative products in France that contribute to the skin's well-being." Today the mission still rings true, the Embryolisse brand offers clinically-advanced, affordable skin care products that support the skin's natural protective capability and its ability to repair itself.
The simple formulations are blended with active ingredients like hyaluronic acid, botanical extracts like shea butter, plant oils, and vitamins. What's more, the products Embryolisse offers are multi-functional, allowing for a minimalist skincare routine.
Sustainability and Recycling
Embryolisse understands the importance of sustainable development, growth, and dematerialization. With the environment and consumers in mind, the brand has found ways to reduce its carbon footprint:
Plastic tubes are being replaced with aluminum
Small plastic bottles being replaced with glass
The use of non-frosted glass and elimination of pearly varnishes on all boxes.
In the lunchroom plastic bottles, cups and all other plastic dishes have been removed
Glass bottles and water fountains are available to employees and visitors
Only what's necessary is printed and it's printed on paper from PEFC (sustainable management program for wood materials) organizations
Customer Reviews
"Stunning! I simply can not believe there's SUCH a difference in how my skin feels & looks, just after using this [hyaluronic] booster serum & then the anti-age creme for One week! I am So Satisfied & Thrilled this combo can pamper & save my Minnesota skin! Thank You!" - keynas2 - 7 February 2022
"If you have problems with puffy eyes in the morning or any other time don't waste your time. Use this product every morning over clean eyes. Puffiness and dark circles disappear almost immediately. More you use better your eyes get. I am going to buy another one to be on the safe side. "- Eloiza C, 2020
Frequently Asked Questions
Where can I purchase Embryolisse products?
Search our online store, Skincarebyalana.com, and shop for products here! We are a proud authorized retailer and we only sell the best authentic products on our site!
Who Embryolisse is owned by?
Alain Cassam-Chenaï is the president & Nazoura Cassam-Chenaï is the director of Laboratoires Embryolisse
Where are Embryolisse products manufactured?
All products are developed and manufactured in France.
What are Embryolisse Best Sellers?
Embryolisse Lait Crème Concentré
A staple for makeup artists! The Embryolisse Lait Creme Concentre cleanses, hydrates, nourishes, and protects even the most sensitive skin. It can be used as a day or night cream. This rich cream blends together natural-origin active ingredients:
Shea butter

Beeswax

Soy proteins

Aloe vera
Embryolisse's Beauty Oil
The beauty secrets are out of the bag with this Emryolisse product! It's a multi-functional and paraben-free beauty oil that comforts, protects, and beautifies your hair, face, body.
Lait Crème Sensitive
The perfect cream for babies, children, and adults with sensitive and reactive skin. The creamy formula is specifically formulated to soothe, nourish and moisturize easily damaged skin, aging skin, and dry skin.
Micellar Lotion – Cleansing and Makeup Remover
A gentle Micellar Lotion that's suitable for sensitive skin, it expertly cleanses makeup, dead skin cells, and everyday dirt and grime.
Are Embryolisse products helpful to dry skin?
Absolutely, this brand constantly has the skin's care in mind. The formulations are constantly focusing on hydrating and moisturizing the skin with a shortlist of ingredients.
Guaranteed Safe Checkout