El Patron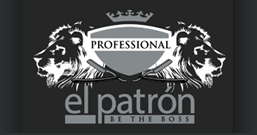 Categories
Be the Boss. This is the spirit of El Patrón men's grooming products. Born out of the desire to bring out the best in a man's personal style.
EVERLASTING
A modern twist on an old vintage. What's old is new. Live passionately and share the quality with others. In the end it all comes down to love.
ANGLE OF APPROACH
Through the centuries, man has retreated from the social mainstream to embrace a better life of luxury. Men's grooming is at the foothill and summit of luxury lifestyle. A good shave, a powerful fragrance and perfect hair, this is a game of confidence. When you're master of your domain there is no competition.
ACE OF DIAMONDS
Our research led us to the South of France where we embraced Black Seed Oil and its rich roots, dating back to Egyptian Pharaoh Tutankhamun, and the legacy of a prophet Mohammad who referred to black seed oil as "a remedy for all diseases except death".When feeling the effects and smelling the uniquely powerful, masculine fragrance of our Beard Oil concoction we knew this substance had to be bottled and delivered to men everywhere.
WELCOME TO THE JUNGLE
Natural ingredients are the source to our health, happiness and longevity. Starting with the finest raw uncut ingredients builds our product formulas and fuels our passion for greatness. Knowing you're using the best gives satisfaction to the mind, body and soul.
DESTINY TO LUXURY
Searching for the perfect wave, untouched beach, or rocky mountain high, this is what inspires the discerning man. Blood, sweat and tears for breakthrough discovery drives our culture to deliver the highest quality men's grooming experience. This is what elevates us.
TARGET SOUTH AMERICA
The countryside can be the best place to think. Set in the outskirts of town, we feel the vibe of comfort and confidence. Tropical warmth and smooth evening skies remind us the importance of simplicity.
NYC LIFESTYLE
After many late nights and seas of thought, we hop in a taxi and head to Lower Manhattan's Water Street. Looking out the window we gaze upon the monumental Brooklyn Bridge and feel the power of our efforts coming together.
Guaranteed Safe Checkout