Dermaquest Skin Therapy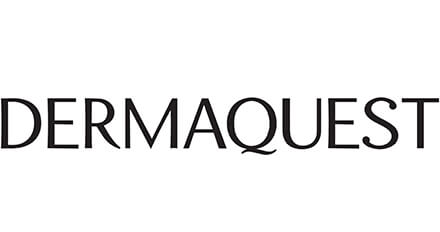 Categories
Dermaquest Sun Protection
Most of us know that the sun, no matter how much we love it, is extremely damaging to our skin. But that shouldn't keep us from going outside, right? Dermaquest Skin Therapy offers an impressive array of products designed to protect your skin from the sun, treat it after sun exposure, and ensure the healthy and appearance of your skin.
Youth Protection SPF30 not only reduces the signs of aging while protecting your skin with broad spectrum SPF30 protection and Zinc Oxide, this light-wearing lotion can be worn comfortably under makeup. Perfect for sensitive skin, Youth Protection SPF30 can even be used around the eyes.
Solar Moisturizer SPF30 also boasts SPF30 broad spectrum UV protection while simultaneously nourishing the skin with moisture and nutrients. With use your skins will feel sumptuous, plump, yet still firm. Apply daily to enhance the health of your skin and to protect it.
Stem Cell 3D Tinted Boisturizer enriches the moisture content of the skin, protects it from the sun, and gives you a sun-kissed look that will be the envy of all of your friends. Going on smooth and not streaky, Stem Cell 3D Tinted moisturized gives you a natural look without any damage from the sun.
ZinClear SPF30 comes in four tinted or un-tinted options and is perfect for skin susceptible to acne and sensitive areas. It absorbs quickly, contributing to moisturization without causing a buildup of white residue or pore-clogging oils. ZinClear SPF30 provides broad-spectrum UVA and UVB protection and goes on smooth. Also perfect after sun-exposure, ZinClear soothes and cools red, irritated skin.
All of these sun care products are composed of only the most advanced ingredients to ensure that you not only are protected from the harmful rays of the sun, but also that your skin is healthy, smooth, and properly moisturized.
Dermaquest Plant Stem Cell 3d
As innovators of plant stem cell technology in the field of dermatology, Dermaquest Skin Therapy offer the brilliantly enhanced and expertly designed Stem Cell 3D Luxury collection of products. Including all of their dermatological scientific discoveries, the Stem Cell 3D Luxury collection will transform your skin from head to toe. Your skin will be repaired from damage, refined to look gorgeous, and renewed to its youthful luster.
With five products in the skincare line of Stem Cell 3D Luxury collection, they offers everything you need to take care of your complexion. Appropriate for almost all skin types, the Stem Cell 3D products represent the highest quality of care.
The Stem Cell 3D Facial Cleanser uses Biotech Marine technology to cleanse the skin and refine its appearance. Foaming lightly, this cleanser removes any makeup as well as dirt and impurities while providing your skin with a restorative, moisturizing bath.
The Eye Lift uses Gardenia and Sea Holly Stem Cells to restore skin along with Red Algae to lift and tone, Your eyes will look brighter and appear younger!
If you're tired of those fine lines and wrinkles around your lips, then the Stem Cell 3D Lip Enhancer is perfect for you. Boasting a firming Maxi-Lip peptide along with botanica stem cells, this serum hydrates the skin and plumps the lips so they look their best.
The Complex includes the most notable skincare technology on the market. Anti-aging neuropeptides reduce fine lines and wrinkles while infusing the skin with nutrients that prevents their further development. Meanwhile, powerful brightening peptides even skin tone and reduce hyperpigmentation.
If a bronzed look that protects the skin is what you're after, try the Stem Cell 3D Tinted Moisturizer SPF30, which gives your skin a sun-kissed look all over while blocking harmful UV rays.
Dermaquest Skin Kits
If you're looking to try the full line of Dermaquest Skin Therapy products and aren't sure where to start, then the Dermaquest Skin Therapy kits are perfect for you. Including a wide variety of products from various lines within the Dermaquest catalog, you can find whatever you need at a discounted price.
Dermaquest Skin Therapy kits include products that represent innovation in skincare, incorporating the highest quality standards in the industry. With formulations that address complicated skink are concerns at the cellular level, Dermaquest will surely get you the results you are looking for.
You might think that this type of skincare would cost a fortune, but that's not the case. Dermaquest Skin Therapy controls the formulation process and distribution channels to ensure that costs are managed. The end result is twofold. First, it means lower prices for you, the buyer. Second, it means Dermaquest can continue to invest in the type of dermatological research and technology that has made its product great. The Dermaquest Skin Therapy Kits are a perfect way to experience the Dermaquest value!
As with many skincare products, Dermaquest Skin Therapy items are used together to achieve the most notable results. So the Dermaquest Skin Care Kits allow you to try the products as they were designed to be used - along with each other. When you use the products this way, you'll undoubtedly maximize results at a great value.
With four Skin Care Kits designed for various skin types and problems, you'll have no problem finding the perfect skincare match for your skin type! If you are dealing with acne or periodic breakouts, try the Dermaquest Acne Management Kit. Perhaps you're trying to reduce fine lines and wrinkles - then use the Age Management Skin Kit. If discoloration is your issue, the Dermaquest Skin Brightening Kit is perfect. And don't forget the Skin Balancing Kit to ensure proper moisture and skin health!
Dermaquest Serums
Dermaquest Skin Therapy serums utilize the most advanced dermatological technology, innovative bioengineering, and the highest quality ingredients on the plant to give your skin the royal treatment it deserves.
Each serum is specifically engineered for the dual purpose of treating a problematic skin condition while simultaneously contributing to your overall dermatological health. Not only will your skin look amazing, but it won't come at the sacrifice of your skin's health.
No matter what type of skin you have or what problematic skin condition your deal with, Dermaquest Skin Therapy makes a serum that is perfect for you. From adolescent acne to the hyper pigmentation associated with aging, Dermaquest Serums will aid in eliminating your problem to give you the best skin you can have!
Performance ingredients ensure that Dermaquest Serums deliver your skin exactly what it needs. Hyaluronic Acid hydrates the skin, allowing the skin to retain the moisture it needs to be healthy. Skin Brighteners work to even skin tone, whether the problem is redness from acne or melasma from sun damage. Plant Stem Cells penetrate the skin to reduce fine lines, wrinkles, and pigmentation. Peptides promote collagen production and reduce inflammation to help reverse the aging process. Antioxidants generate healthy skin renewal and enzymes ensure that the dead skin cells are removed to reveal that newly generated healthy skin. These quality ingredients work together to leave you looking younger, vibrant, and more attractive.
Dermaquest Serums span the entire line of Dermaquest products, and a little bit goes a long way. It only takes a few drops of these serums used daily to rejuvenate the skin and garner results. Here at We love Dermaquest products and have seen the serums transform skin first hand. Take a look and find what you think will be best for your skin - Dermaquest will not disappoint.
Guaranteed Safe Checkout