100% Pure 2nd Skin Concealer .17oz
Item#:
100_pure_2nd_skin_concealer-Shade 6
100% Pure 2nd Skin Concealer offers a medium to full coverage for a natural look.
Product Description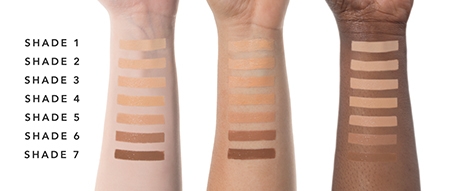 Product Description
A creamy concealer colored from fruit pigments and hydrating olive squalene. It's easily blendable and buildable, giving you even coverage with a natural finish, that looks and feels like a second skin. This skin-perfecting formula is as healthy as it is luxurious.
How to Use
Use the applicator to swipe concealer directly onto skin, or back of hand. Blend or pat gently into skin with ring finger or brush.
Ingredients
Olea Europaea (Olive) Squalane, Pigmented extracts of Prunus Persica (Peach), Prunus Armeniaca (Apricot), Theobroma Cacao (Cocoa) Beans, Punica Granatum (Pomegranate), Rubus Idaeus Fruit (Raspberry), Prunus Serotina (Wild Cherry), coffea arabica (coffee) Beans, Camellia sinensis (Micronized Black Tea) leaves, Oryza Sativa (Rice) Starch, Lonicera Caprifolium Flower and Lonicera Japonica (Honeysuckle) Flower Extract,Rosmarinus Officinalis (Rosemary)Extract, Origanum Vulgare (Oregano) Extract, Thymus Vulgaris (Thyme) Extract, Hydrastis Canadersis (Goldenseal) Extract, Lavan- dula Angustifolia (Lavender) Extract, Calendula Officinalis (Calendula) Extract, Tocopherol (Vitamin E), Bamboo Silica, Curcuma Longa (Turmeric)
Alana Recommends
How subscriptions work
Products are automatically delivered on your schedule. No obligation, modify or cancel your subscription anytime.
Learn more...