FarmHouse Fresh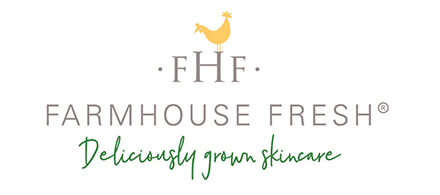 Categories
About FarmHouse Fresh
FarmHouse Fresh is a brand that you need when you're looking for effective, proven, and safe products that nourish and promote healthier skin. This is a brand that cares about a sustainable environment; offering body care products that are made with 93% to 100% natural ingredients like vegetables, fruits, milks, and honey that are sourced from their local farms and farms across the United States!
All the products in the FarmHouse Fresh skincare line-up are freshly harvested and made with sustainable, 93% to 100% all-natural ingredients. This means that what you put on your skin will never leave you worried or wondering what's inside.
What's more, FarmHouse Fresh truly lives up to its name as once it grows and harvests the ingredients for its product line, it feeds the leftovers to farm animals. Pretty neat!
The FarmHouse Fresh collection includes amazing face products and body products. Their lineup includes antioxidant-packed moisturizers, dessert-worthy facial masks like their FarmHouse Fresh Pudding Apeel Tapioca Mask, and fabulous tonics for instant refreshment.
A Team of Experts
FHF has a team of licensed massage therapists, cosmetologists, and estheticians. Together, after many hours of skincare consultations, spa treatments, and clinical tests with dermatologists, the team has created a collection of products that deliver results that you can see and feel. You'll notice, a reduction in signs of aging due to deep moisturization, calmed redness and irritation, along with a balanced skin complexion.
Shopping for made in the USA, packed by hand products?
Just-harvested, nutrient-dense ingredients that have not traveled in hot containers for thousands of miles, it great for the environment and your skin. This is also good for our farmers here in the U.S., every item is proudly made here, down to FHF's canvas tote bags! For FarmHouse Fresh, cultivating, care, and love all go hand in hand.
Customer reviews
"[Moon Dip] This cream is so amazing and not greasy. I dip into it several times a day just for the sheer pleasure and softness it provides for my skin. I know my next one will be Blissed……because of the samples. Oh my, the samples……I have now placed two orders in one week because I try another sample and have to have it. I see a lot of products in my future." - Jo, 2021
"First off- I have never purchased something from this company that I didn't like. Guac Star leaves my skin looking and feeling smooth, refreshed and moisturized without feeling greasy. Everything I have tried has far exceeded my expectations. I have tried 4 or 5 face masks, cleansers, many different lotions, and the pedicure mini set. Everything has been AMAZING!!! Thank you." - Em, 2021
"I use the New Groove Hemp Wash Gel Cleanser to cleanse my skin in the morning & evening as it invigorates & gives my skin a light flush. My face feels clean & refreshed after use & is non-drying. It is also very concentrated so a little goes a long way. I just love it & highly recommend it!!" - Jennifer, 2021
Frequently Asked Questions
What is Farmhouse Fresh?
The term FarmHouse Fresh means using 93% to 100% natural and naturally derived ingredients to create skin-loving products that are chock full of fruits, veggies, milks, and more from farms across the United States, including their own. Their body care products are infused with potent botanical extracts, that will certainly leave your skin radiant and feeling nourished.
What is FHF's mission?
This brand's mission is simple:
Grow Fresh, Spa Deliciously, and Rescue Fiercely. Meaning, when growing products they are conscious about the amount of water used, they are dedicated to their products providing a lush experience, and lastly helping animals is always on the top of their list.
Who sells FarmHouse Fresh?
You can purchase FarmHouse Fresh products here at Skincarebyalana.com. We only sell 100% authentic products. We are a proud and authorized retailer of FarmHouse Fresh products and offer only the best FarmHouse Fresh products to our customers!
Who owns FarmHouse Fresh?
Shannon McLinden is the founder and owner of the company!
Is Farm Fresh cruelty-free?
If FarmHouse Fresh uses honey in one of their products, they are certain to label it to that effect as not vegan. However, they are a certified PETA brand and 99% of their products are cruelty-free.
Where is FHF located?
They are located in Mckinney, Texas where they craft their body care products with fresh locally harvested ingredients.
Are FarmHouse Fresh products safe?
Absolutely! Their body care products are 93% to 100% natural, many are vegan and gluten-free. They never use parabens or sulfates. These combined qualities make their products safe and healthy for your skin.
What is the best mask to reduce the signs of redness?
FHF's Guac Star Soothing Avocado Hydration Mask will help to reduce any sign of redness.
What are FarmHouse Fresh bestsellers?
This brand's best-sellers are Honey Heel Glaze, Three Milk Ageless Moisturizer, and Moon Dip Back To Youth Ageless Body Mousse!
Where can I purchase FHF Products?
You can purchase all FarmHouse Fresh products here at Skincarebyalana.com. We only sell 100% authentic products. We are a proud and authorized retailer of FarmHouse Fresh products and offer only the best FarmHouse Fresh products to our customers!
How can I contact Skincare By Alana?
You can email us any time at alana@skincarebyalana.com or call us at 1-888-222-0637.
Guaranteed Safe Checkout